2023 BFGoodrich Tires Mint 400 a Massive Record Breaking Success!
March 15, 2023
Kilian Hamlin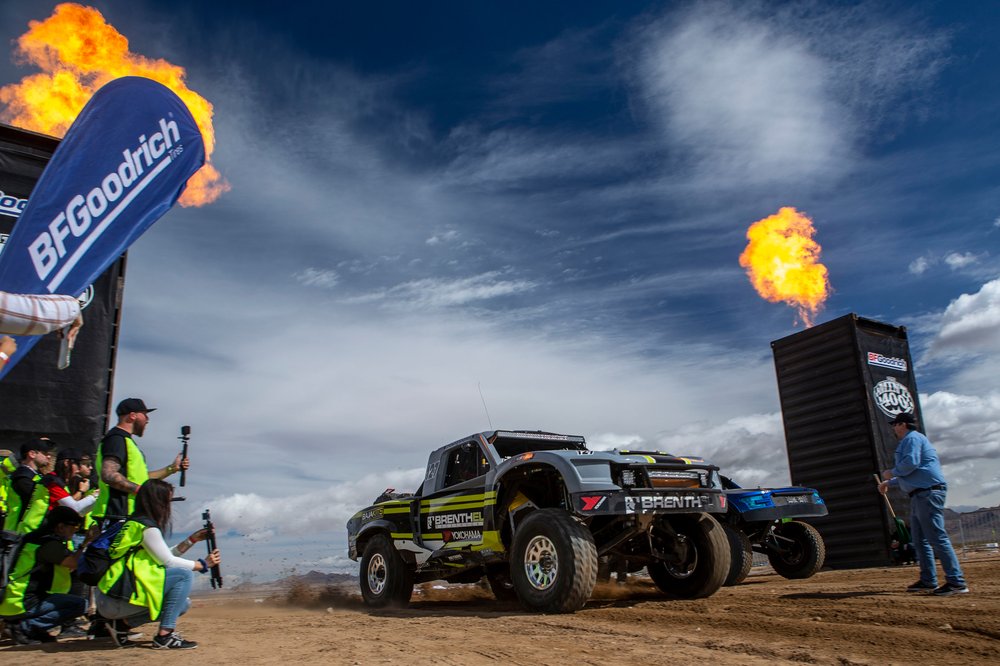 Eric Hardin, Joe Terrana overcome deep fields for overall wins; nearly 500 entries on hand!
Eric Hardin, Joe Terrana overcome deep fields for overall wins; nearly 500 entries on hand!
The 2023 edition of the BFGoodrich Tires Mint 400 lived up to the iconic billing of "The Great American Off-Road Race" in every possible way. From a full week of festivities throughout the Las Vegas area to nearly 500 race teams competing across more than 50 classes, this year's event was a statement that off-road racing is thriving and growing! The Mint 400, promoted by the Martelli Brothers, is leading the industry in both scale and execution.
"We had a banner event this year! From the increased entries, to record midway and spectator ticket sales, colossal live stream viewership, a huge uptick in our digital and social media impact and engagement, and increased merch sales for us and all of our vendors. We broke all of our standing records. Those who weren't a part of this year's historical Mint 400 missed out, but luckily The California 300 is right around the corner this October 4th- 8th in Barstow, CA. We expect to see our numbers double there as well." stated Mint 400 CEO Matt Martelli.
Event week got off to a strong start with the return of the Mint 400 Desert Cleanup powered by Republic Services, where 200 volunteers set a record by collecting 46.56 tons of trash in the seventh edition of the event. Just a few short days later, Las Vegas Mayor Carolyn Goodman led hundreds of off-road cars, trucks, bikes, and UTVs worth a combined $40 million down the Las Vegas Strip as Grand Marshal of the annual Mint 400 Parade. From there, it was off to The STRAT for the Mint 400 Kickoff Party at PT's Wings & Sports, and the Dinner of Champions at Oscar's Steakhouse, where Executive Chef Ben Jenkins prepared a multi-course dinner for 125 off-road luminaries, sponsors, and legends of the Mint 400.
Thursday saw teams take over Fremont Street East for the Mint 400 Off-Road Festival, which welcomed a whopping 100 vendors and spilled into the Fremont Street Experience as racers staged for tech and contingency. Capping off the night, country music superstar Tim Montana rocked a massive crowd of off-road and music fans before preparing to race his first Mint 400 the next day. Montana would pair up with 2020 Mint 400 concert headliner Jesse Hughes of Eagles of Death Metal and UFC fighter Dominick Reyes in the Zero1 Mint 400 Celebrity Car.
The most unique entry list in off-road racing hit the 95-mile course in Primm on Friday for the O'Reilly Auto Parts Limited Race. Everything from turbocharged UTVs to vintage buggies and even military vehicles left the start line in hope of securing victory. There was no shortage of star power on the entry list, with plenty of past winners lining up, but the desert would crown a new winner when all was said and done in 22-year-old Joe Terrana. He'd take the overall win while competing in the UTV Pro Turbo class, beating out the competition by a mere three minutes, after 400 grueling miles!
The fire-breathing Unlimited Trucks got their first taste of Primm on Friday as well, as three-time Mint 400 champion Justin Lofton backed up last year's top qualifying time with another pole position and the right to hit the race course first on Saturday. But once again, this year's course was determined to add a new name to the record books. While past winners and legends of the sport fell by the wayside one by one, Eric Hardin pushed on, taking the lead for good as the four-lap challenge wound down and flying back into Primm as a first-time Mint 400 champion. Joining him on the podium were Christian Sourapas, making his return to an Unlimited Truck in the place of his legendary father Steve, and Adam Householder, who extended his championship lead in the inaugural Unlimited Off-Road Racing Triple Crown after winning the opener at King of the Hammers.
The Mint 400 has held the title of the toughest, most spectacular off-road race in North America since 1968. Initially, the race was a public relations event promoting the Mint Hotel's annual deer hunt, but what started out as a hotel promotion soon grew into an iconic worldwide affair. Since its 2008 revival, "The Great American Off-Road Race" has grown more prestigious, and the deeper fields every year only make it tougher to win.
More information on the 2023 BFGoodrich Tires Mint 400 for racers and spectators is available at TheMint400.com, or follow the event on Facebook and Instagram.
The Unlimited Off-Road Racing Triple Crown will conclude in October with the second annual California 300, returning to the off-road hotbed of Barstow, California. More information, including race sign-ups and exhibitor information when available, can be found at thecalifornia300.com.
About The Mint 400
The Mint 400 is the oldest and most prestigious off-road race in America, and is held each March in the treacherous foothills of Sin City. The multi-day event features a massive vehicle parade down the world famous Las Vegas Strip, a two day festival on historic Fremont Street, and two days of grueling off-road racing on a desolate and punishing 400-mile racecourse. Nearly 65,000 off-road and recreational enthusiasts come to watch 500 race teams in 50+ classes from 25 different states and 15 different countries go door to door, while the Livestream coverage is beamed to over 800,000 viewers worldwide.  No other off road race allows fans the thrilling experience of watching the top off-road race teams from around the world battle for fame and glory, in a festival setting – complete with a luxury VIP section. The Mint 400 is "The Great American Off-Road Race"!
---
Top